Racketlon is back in the UK, and back with a bang as 58 players descended on the Lee Westwood Sports Centre at Nottingham Trent University for the 2019 East Midlands Open, kicking off both the 2019 UK Tour and the 2019 Super Series!  Unsurprisingly, our top seeds dominated the Men's and Women's A events, with victories for Dan Busby and Lauren Whiteman.  There were also titles for Simon Lau (Men's B), Chantelle Stamp (Women's B), Ben Cook (Men's C), Thomas Andrews (Men's D), Ethan Archer (Men's E) and Freddie Whitfield (Juniors).  Of these winners, three players were debutants tasting Racketlon for the very first time!  All results can be found here.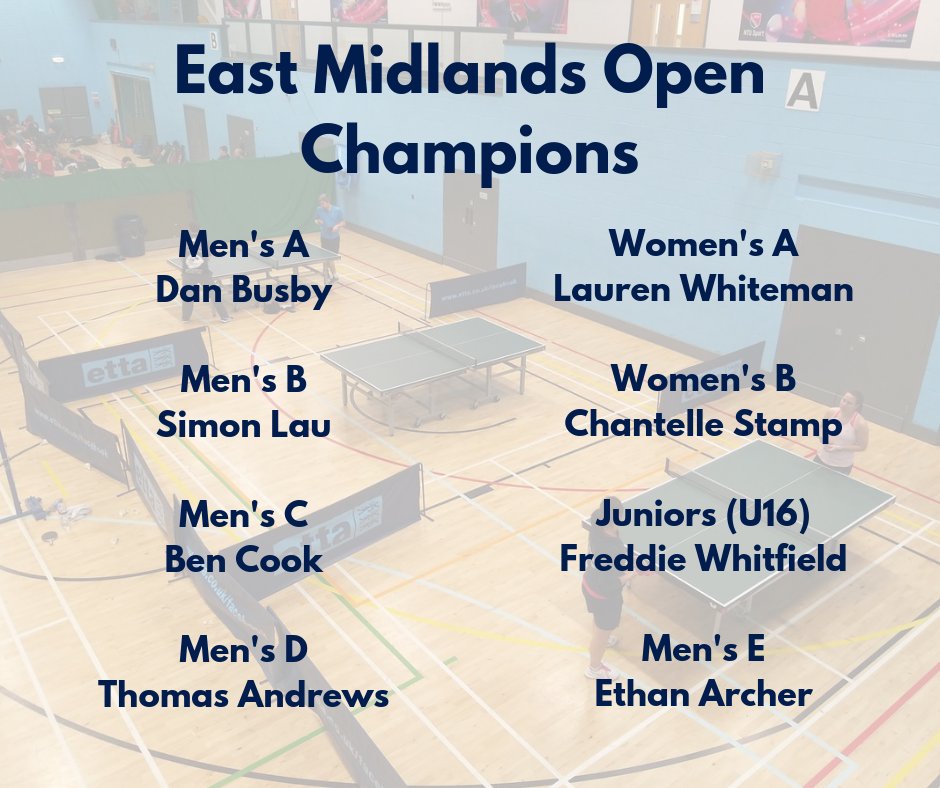 Familiar Finals & Familiar Winners
After excellent opening round wins for Alex Du Noyer (over second seed Luke Barnes), Ross Wilson (over Alistair Prades) and bragging rights in a battle of Nottingham for Jon Spinks (over Andrew Hopwood) in addition to top seed Dan Bubsy's win over Will Coley, the Men's A settled down through the semi-finals.  Ross' continuing education in Racketlon came from the skills and experience of top seed Dan Busby, while Alex saw off Jon, up a repeat of the 2018 East Midlands Open final.  
In the Women's A, the entrants were split into two groups of three, led by top seed Lauren Whiteman and second seed Jo Shelley.  Lauren quickly saw off the challenges of Sarah Ball and Jane Galsworthy in her group to progress to the final.  Jo then swiftly followed suit, dominating her group with victories over Jo Bennett and Faye Button.  Lauren vs Jo in the Women's final, a repeat of the 2017 East Midlands Open final!
Re-run finals and re-run results.  In 2018 Dan defeated Alex and the same was true in 2019, a squash masterclass from Dan doing the bulk of the damage.  As mentioned in the season preview, this is Dan's 20th UK Racketlon title, pulling him level with Duncan Stahl at the top of the tree.  Ross Wilson defeated Jon Spinks to claim third place and once again show how incredible the progression of our junior players continues to be!  For the women, there was also no change in the history, Lauren, victorious in 2017 was also victorious in 2019, her strength on the tennis court ensuring that Jo was not going to turn the tables!  Jane Galsworthy dominated the badminton and squash to claim third place ahead of Faye Button.  

Debutant Winners
Elsewhere, there were three victories for debutants in the Women's B, Men's D and Men's E.  For newcomer Chantelle Stamp, it was a full Racketlon experience as she claimed the Women's B title.  After a commanding victory in her first match, she earned a semi-final against top seed Susie Dilloway.  Dropping behind with a 21-4 defeat in the TT against Susie, a 21-13 badminton defeat pushed Chantelle 25 points behind with just 42 left for her to win in the match.  A 21-13 squash victory for Chantelle kept her hopes alive, but Susie needing just 5 points for victory looked in the box seat.  However, Chantelle was far from done, a 21-4 tennis victory earned her a gumi-arm which she then won on debut to seal an incredible victory and a place in a first final.  Opponent, Bethan Grinsell had also knocked out a seed (second seed Gemma Hopwood) and reached the final without having used her tennis racket!  However, showing no signs of nerves, Chantelle raced into a 18 point lead and despite a hefty squash defeat, she had enough to seal victory on the tennis court once again!  
In the Men's D, debutant Thomas Andrews overcame the challenges of experienced Racketlon players Ray Ryan and Scott Hughes to set up a final against another experienced foe, Mike Galdders.  The Racketlon regular, Mike shot out into a commanding lead, with TT and badminton victories putting him comfortable ahead.  However, another nerveless performance from a debutant resulted in Thomas coming back in the squash and then sealing victory on the tennis court with aplomb!  In the 4 man round robin Men's E, Ethan Archer dominated on his debut, winning all sports but two badminton sets (one of those 22-20) in his march to the Men's E title with fellow debutant Laurie Mackenzie finishing in second as he edged out Robert Stanners by 7 points in a pulsating match!  

Regulars Round Up
It was more regular service in the Men's B, Men's C and Junior events!  In the Men's B, Simon Lau set up a final against Mark Green after both men ended the challenge of the juniors Will Taylor and Will Gregson respectively.  After Mark (TT) and Simon (badminton) had shared the opening sports between themselves, they set about the business of determining the winner from the final two sports!  Simon won the squash 21-9 and needing 10 for the title, was trailing Mark 19-9, however he grabbed that final elusive point to ensure that he claimed the title!  Simon credits holding his nerve due to confidence gained by recently claiming the Welsh Mixed Over 50s Badminton title!  Will Gregson earned first bragging rights of the season by defeating Will Taylor in a thrilling third-fourth place play off.  Young Gregson reaching his victory target of 9 on the tennis court as Taylor fell just short of his target of 21, having reached 19!  Much has been made in recent weeks of our junior prowess and this once again highlighted that there is real strength in our junior players!  A year ago, Will was claiming the junior title here in Nottingham, now he finished fourth with a victory over top seed Johnny Bispham as a notable scalp in his bag.  
Top seed Ben Cook dominated the Men's C from start to finish although he was made to work for his title!  Connor Green pushed him hard in the tennis in his first match, Ben edging that 26-24.  In his semi-final, he saw off the challenge of Lee Gregson, thanks to opening victories 22-20 and 23-21 in the TT and badminton.  It was a slightly easier affair in the final against Antoine Bacha, 21-16 the tightest set as Ben ran out a comfortable winner during the tennis.  Lee edged out another talented youngster, Ryan Bezer in a match which featured a 30-28 tennis victory for the junior that was sadly in vain! Top seed Cameron Leighton and second seed Freddie Whitfield progressed to the Junior final, with Freddie coming out on top in their battle on the day.  Alexandra Ogram defeated Fergus Wilson to claim third place.  The junior event was competitive throughout, not least the battle for fifth/sixth between James Vincent and Oliver Barton, which featured a 33-31 badminton win for James, prompting questions in the Racketlon world as to whether this is the closest ever contest?

A great way to start the 2019 Racketlon season.  We next move onto Abingdon for the Oxfordshire Open, before the UK Tour really starts to kick on through April with the British Championships, the Festival of Racketlon and a busy summer all to come.  Don't forget to keep abreast of all the events through our website, Facebook, Instagram and Twitter feeds!